Uplifting Youth Voices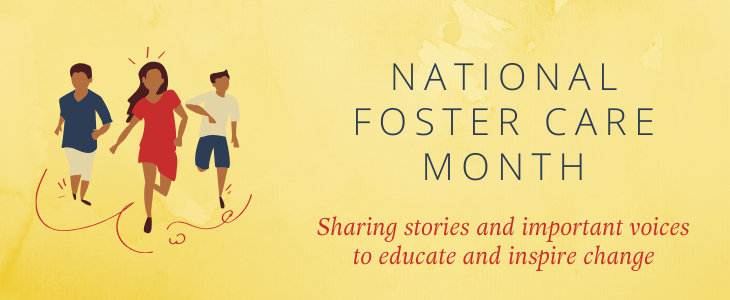 Uplifting Youth Voices During National Foster Care Month & COVID-19
Entering this new chapter of leadership at the Congressional Coalition on Adoption Institute (CCAI), I am excited to engage with you during this unprecedented time in our country, as we witness the spread of COVID-19 throughout the world!
Reflecting on my career enables me to lead such a great organization during this time. I started my career as a foster care case manager ensuring foster youth were on the road to permanency, reunified with their families, placed with kin, or freed for adoption. As I moved into policy and advocacy work, I witnessed that it takes large groups of committed professionals to move the needle in a positive direction for abused and neglected children in this county.
During the month of May each year, the country comes together to celebrate and recognize the approximately 430,000 children and youth living in foster care, as well as their foster parents, child-welfare workers, advocates and mentors. It also continues to bring attention to the many challenges faced by children and youth in foster care. Although foster care is intended to be temporary, children and youth remain in the system for an average of almost two years, and almost 20,000 youth age out of foster care each year without reunification or adoption.
For the past sixteen years, the Congressional Coalition on Adoption Institute launches the Foster Youth Internship (FYI) Program® each May to bring the direct voices of youth who spent time in foster care to the halls of Congress. This year, the halls might not be filled with constituents, visitors, and FYIs, but their voices will still be heard – loud and clear.
Due to the COVID-19 pandemic, the FYI Program is continuing as a modified, virtual program this summer. The CCAI Board of Directors and staff have considered several alternative plans over the past few weeks and fully believe this program option is the safest and most meaningful opportunity for the 2020 class.
The 2020 FYI Program is a part-time virtual policy commitment via the CCAI Foster Youth Intern COVID-19 Pandemic Working Group. This working group allows the 2020 Foster Youth Interns to research, provide federal policy recommendations, and ultimately influence policymakers on ways to support foster youth and strengthen the child welfare system during and after the pandemic. The 2020 Foster Youth Interns will publish their research and hold a virtual webinar on Wednesday, July 22 at 3:00pm EST to present their recommendations to the child welfare community across the nation. Meet the 2020 Foster Youth Interns of the COVID-19 Pandemic Working Group here!
Additionally, because of our wonderful partners, each 2020 Foster Youth Intern who participates in the working group will receive a stipend this summer to help cover housing, grocery, and other general living expenses. CCAI will also support the 2020 FYIs by hosting a monthly engagement program from August 2020 through May 2021, so the 2020 class can maintain momentum and progress on professional development, advocacy, and child welfare issues. We will know more details early this fall on our 2021 program.
While COVID-19 is currently impacting the safety, stability, and well-being of vulnerable children and families we must start looking towards the future. We hope our FYIs' policy report recommendations will lead the way for policy solutions. Our systems must be strengthened and our nation's most vulnerable must be protected.
As President Ronald Reagan said in the very first National Foster Care Month Proclamation in 1988, "National Foster Care Month presents an appropriate opportunity for all of us -- public officials, business, religious, and community leaders, and parents alike -- to reflect on the pressures facing families today and on the need for increased efforts to ensure that abandoned or abused children have the opportunity to live in healthy, loving homes." (Proclamation 5820 -- National Foster Care Month, 1988)
President Trump expressed his support for National Foster Care Month in an official Presidential Proclamation, and both the U.S. Senate and House of Representatives registered their support through Resolutions. Add your voice to theirs! This May, we invite you to consider ways you might become more involved in the lives of children and youth in foster care – because every single child deserves the opportunity to have a safe, loving, and permanent family.
Nancy Kay Blackwell is a passionate child welfare professional with more than 20 years in human services for social and public policy driven organizations in Baltimore, Annapolis, and Washington, D.C. Her areas of focus include child welfare, early childhood development, faith-based policy, workforce development, and family homelessness. Read more about Nancy here.